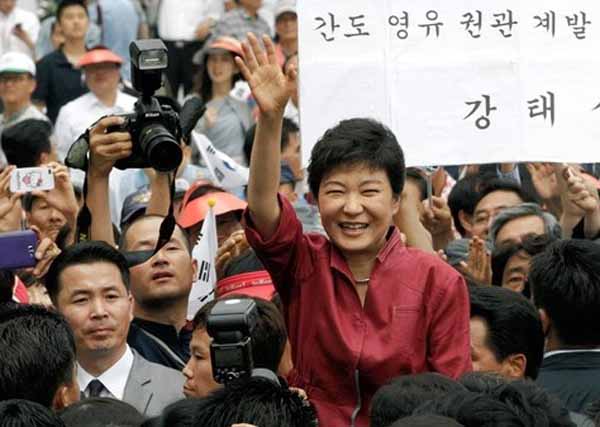 사진출처(WSJ): Saenuri Party presidential candidate Park Geun-hye on the campaign trail.
박근혜 새누리당 대선후보는 12일(현지시간) 월스트리트저널(WSJ) 기고문을 통해 "동북아 평화를 위해 북한 문제 해결이 필수적"이라고 밝혔다. 朴후보는 이날 'A Plan for Peace in North Asia'라는 제목의 기고문에서 "북한주민들의 삶의 질 향상, 그리고 경제발전을 위한 전략적 선택 등을 북한 지도자에게 강력히 설득할 필요가 있다"면서 이 같이 말했다.
朴후보는 "협력적 美中관계와 韓中日 '3각 협력'(trilateral cooperation) 그리고 한국과 주변국들 간의 우호적 관계 등이 북한과 국제사회 간의 신뢰 구축의 촉매(catalysts) 역할을 할 것"이라고 밝혔다. 특히 안보문제와 관련해 "한국은 신뢰할 수 있는 억지력(credible deterrence capabilities)을 확고히 하는 한편, 남북관계 개선을 통해 북한을 국제사회의 책임 있는 일원이 될 수 있도록 선도적 역할을 담당할 것"이라고 말했다.&nbsp
朴후보는 이어 "한국과 이웃국가들은 북한이 앞으로 나아갈 수 있도록 대내외(對內外)적 환경을 조성해야 한다. 외부세계에 노출된 적이 있는 평양의 새로운 리더(leader)는 국제적 추세에 발맞춰 새로운 대안을 택해야 할 것"이라며 북한의 실질적 변화를 촉구했다.
이와 함께 "최근 버마(Burma)가 정치-경제적 개혁을 도입할 수 있었던 이유는 올바른 선택을 했기 때문"이라며 "북한도 마찬가지로 한반도와 동북아를 잇는 신뢰의 다리(bridge of trust)를 건설하는데 동참해야 한다. 그렇지 않으면 엄청난 결과를 초래하게 될 것"이라고 했다(Should it choose otherwise, it can only result in untold consequences).
朴후보는 "북한이 올바른 선택을 할 경우 세계 유일의 냉전 지역(Cold War frontier)인 한반도도 바뀔 수밖에 없을 것"이라고 말한 뒤, "이러한 일련의 변화야말로 아시아 패러독스(Asia's paradox)를 극복하고 새로운 동북아를 구축하며, 새로운 아시아 시대를 여는 견인차가 될 것으로 믿는다. 이것이 내가 꿈꾸는 한반도와 동북아의 미래"라고 밝혔다.
번역/정리 김필재 spooner1@hanmail.net

[原文] A Plan for Peace in North Asia
By PARK GEUN-HYE
The world is watching Asia with increasing alarm. This region today is marked by pronounced tensions: North Korea's self-declaration as a nuclear weapon state, the rise of historical and territorial tensions and accelerated military competition. All this could have negative economic consequences.
At the same time, Asia increasingly lies at the heart of the global economy. Hence, the international community is apprehensive that a rising Asia long associated with rapid growth and more open cooperation is morphing into a clashing Asia. Such a bifurcated Asia, or what I refer to as 'Asia's paradox,' is the single most important obstacle that has to be overcome by the region's leaders.
Specifically, if tensions in Northeast Asia remain unresolved, not only will decades of partnerships unravel, we cannot rule out unintended clashes. Preventing such a turn of events and removing Asia's many obstacles to cooperation requires the undivided attention of Asia's leaders. Such efforts are essential if Northeast Asia is to embark on a path of reconciliation, not to mention building a more sustainable peace on the Korean Peninsula.
That's why I proposed a 'Northeast Asian Peace and Cooperation Initiative' geared specifically to addressing our region's many quandaries. I believe that Northeast Asia can successfully implement measures that build political and military confidence, intensify economic cooperation, and attain mutually beneficial human security dividends.
Although Asia's and Europe's historical trajectories and security environments are different, we are reminded of Europe's Helsinki Process in the midst of the Cold War that fostered the making of a common, integrated Europe. Likewise, military tensions in Asia should be further ameliorated through preventative diplomacy and tangible multilateral security cooperation.
So how can we trigger a similar path for Northeast Asia? I believe there are three critical missing links: bold and new thinking on the part of all of the region's stakeholders, fostering an unprecedented 'grand reconciliation' between Korea, China, and Japan, and a correct understanding of history.
If these three missing pieces are put together, they can leave behind the legacies of deeply embedded mistrust and perennial conflicts. Such a move is even more crucial because relations have seldom been as tense since the normalization of bilateral ties.
So first, perhaps the most important ingredient in beginning genuine reconciliation is the need for a correct understanding of history among Northeast Asian countries. Postwar Europe's journey toward integration was possible due to a new window of cooperation based on a 'grand reconciliation' among Germany, France and the U.K. We also remember West German Chancellor Willy Brandt's landmark 1970 visit to the monument commemorating the Warsaw Ghetto uprising of 1943. That was when Europe's journey toward reconciliation really began.
In the same vein, Northeast Asia also requires corresponding steps from the region's main historical and wartime transgressor. The lingering pain of Asia's victims, including Korea's and other countries' so-called comfort women, as well as outstanding historical legacies must be fundamentally addressed. Only then will Japan be welcomed as a respectable and leading Asian country. And if Northeast Asia is to skillfully overcome its historical legacies while contributing to global norms, it has to champion open nationalism that enhances the spirit of community-building while safeguarding universal values and democratic governance.
A Northeast Asia that earnestly overcomes historical barriers can accentuate genuine trilateral cooperation among Korea, China and Japan. New synergies are possible by merging the region's capital, technology, manpower, and innovations. In turn, such efforts can make contributions to resolving key regional and global problems.
Moreover, a Northeast Asia that pays greater attention to global issues such as climate change, terrorism, nuclear proliferation and safety, and global governance, will enhance the region's trust in the eyes of the world. Green Climate Fund's decision to establish its headquarters at Songdo, Incheon is testament to the makings of a more responsible Northeast Asia.
Next, Asia's recent troubles have raised questions about the United States' role. Washington's sustained presence in East Asia was, and remains, a crucial factor contributing to regional peace and prosperity. Likewise, ensuring that the region can transition from tensions and collisions to a more cooperative union requires a forward-looking U.S.-China relationship.
I do not believe that a rising China and America's pivot to Asia are mutually exclusive. Rather, more transparent actions will serve as building blocks for a more secure and prosperous Northeast Asia. Both Korea and Japan maintain critical alliances with the United States while simultaneously sustaining closer cooperative partnerships with China. Our ties with these two powers are not premised on choosing one over the other.
Finally, the remaining critical ingredient in overcoming Northeast Asia's animosities lies in mitigating mistrust and confrontation and building a more enduring peace on the Korean Peninsula. Resolving North Korea's nuclear problem is essential for a peaceful Northeast Asia. So too are our efforts in convincing the North Korean leadership to make strategic choices that will ensure denuclearization, enhance the livelihood of its citizens, and promote economic development.
I am confident that a cooperative U.S.-China relationship, enhanced trilateral cooperation among Korea, China and Japan, not to mention Korea's ties with all of the regional powers, can serve as catalysts for a new trust between North Korea and the world. Even as South Korea maintains a steadfast posture with credible deterrence capabilities, Seoul should take the lead in normalizing South-North relations so that it can steer Pyongyang toward becoming a responsible member of the international community.
Together with our neighbors, we have to jointly shape an environment that allows North Korea to move forward. The new leader in Pyongyang, who has been exposed to the outside world, should adopt new alternatives consistent with prevailing international trends.
Recently, Burma's encouraging steps toward economic and political reforms were possible because its leadership made the right choices: joining the family of nations and bolstering regional stability. North Korea can likewise partake in helping develop a new bridge of trust across the Korean Peninsula and Northeast Asia. Should it choose otherwise, it can only result in untold consequences.
If North Korea makes the right choices, the world's remaining Cold War frontier cannot but change. For this is surely the main pathway in overcoming Asia's paradox, the making of a new Northeast Asia, and the beckoning of an Asian Century. This is my vision for Korea and Northeast Asia.
Ms. Park is the presidential candidate of South Korea's Saenuri (New Frontier) Party.
&nbsp